Subscription based Task Management Solution
Tasky is fully white-label & self-hosted Task Management application that you can offer to your clients for any subscription fee.
You can host Tasky on your domain where your client can signup and get a subdomain to access their Task Management account. You can then charge subscription amount either monthly or annually from your clients to offer this service.
Live Demo
Sample Website Sample Admin Panel Sample Client Panel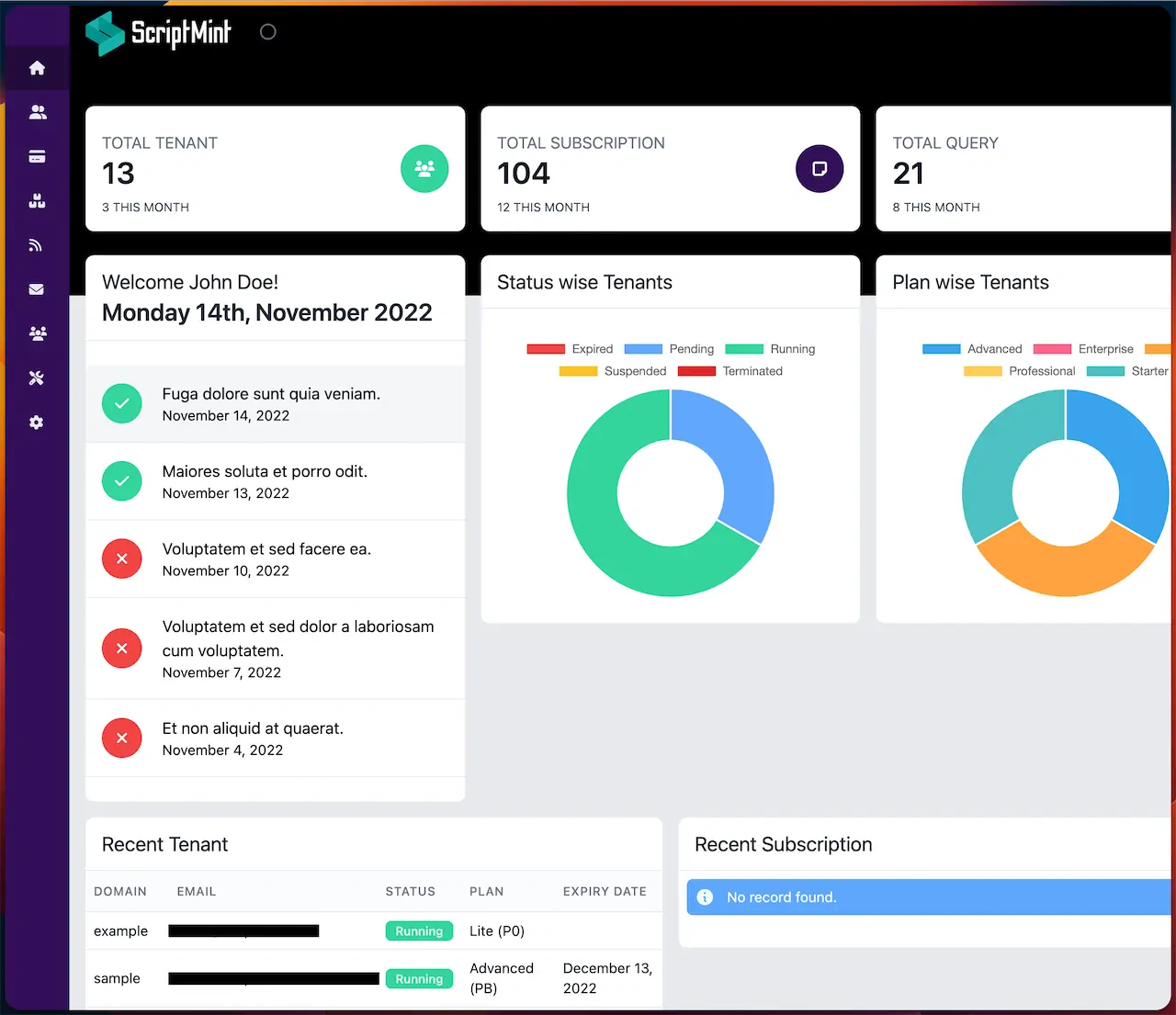 Highlights
Self Hosted & Fully White-labeled Task Management Solution for Resellers
The features available with Tasky & its future development roadmap keeps you assured that you are choosing the perfect tool for the organization.
Always Up-to-date
Built with Latest Version of Laravel 9 (Supports PHP 8.1), Vue.js 3 & Tailwind CSS 3 & offering highest level of security & performance.
Built as SPA
It is built as Single Page Application, components are loaded dynamically as & when required without page refresh.
REST API
It offers REST API for future usecase, Use it to build Mobile App or integrate with other project.
Elegant Syntax
It is written with elegant syntax, Uses most advance concept of Laravel & Vue.js to deliver high quality project
Features
Tasky is built for Resellers who are looking to Resell Task Management solution with their own brand name. The super-simple & easy interface helps users to understand & setup the application quickly.
100% White-label
Tasky is a complete white-label HR Solution. Get your own Branding, Assets Everywhere. While we are working on feature update, you focus on your business.
Self Hosted
Your SaaS application is in your hosting account. Choose your own datacenter region, Manage all your server resources as per your needs.
Affordable
Tasky offers tons of features at a very affordable cost. You get a Lifetime License with a one-time purchase. Request for custom features as low as $30/hour.
Free Installation
We offer One-time Free Server Setup & Installation of Tasky on your server. You can start offering HRM solution to your clients after installation.
Demo Client Account
We do setup one Demo Client Account which you can use as a showcase of your product. You can also offer your client trial account before they opt for a paid subscription.
Support
Support is optional. Get Free Updates on Tasky when you purchase a support package. We usually respond within 24 working hours to your support queries.
How to proceed?
Here are the 5 simple steps to start your SaaS business.
BUY A LICENSE Choose a suitable license, Verify your Purchase, Get your Server ready with pre-requisite
SCHEDULE FREE INSTALLATION Get One-time Free Installation, Setup Demo Client Account, Get familiar with the application
SETUP PLANS & PAYMENT GATEWAYS Create Multiple Plans, Choose your own with Pricing & Limits, Configure Trial Period & Payment Gateways
DESIGN YOUR WEBSITE Design your Website with images, videos & Publish it, Start Marketing your business
START EARNING Get customer Signup, Offer free trial account & Custom Domain to your customer, Convert them into paid account
Live Demo